Andrews Institute Sideline Emergencies Course Prepares Athletic Health Care Team For Upcoming School Year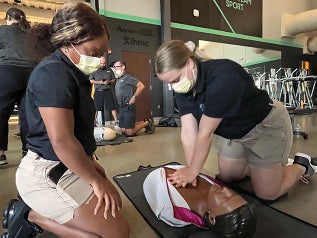 - 8/01/2022
The Andrews Institute for Orthopaedics & Sports Medicine Outreach department recently conducted its annual Management of Sideline Emergencies course for athletic trainers and other sideline first responders.
The Lab Report
The hands-on course takes participants though a series of potential emergencies, divided into four clinical skills labs.
Spine Boarding; Equipment Removal; and Facemask Removal
CPR Review and Skills Practice; General Medical Reminders; Internal Organs; Medical Time Outs; and EMS Relations
Heat Management: Cold Water Immersion and Rectal Temperature Assessment; Lightning/Weather: Considerations and Triage; Scoop Stretcher
Fracture Management and Bleeding Control Basics; Ortho Trauma Reminders and Scenarios
Practice Like You Play
By creating sideline emergency scenarios in then "lab", those charged with taking care of the student-athletes in the games are as ready as possible. "The course does a great job of mimicking urgent and emergent scenarios we see in sports medicine coverage," said Michael Milligan, M.D., director of external development for sports medicine outreach at Andrews Institute. "When there is an actual sideline emergency, we know our team is prepared."
The Management of Sideline Emergencies course is one of many ways the Sports Medicine Outreach department at Andrews Institute supports the health and safety of athletes. Chad McCammon, vice president of orthopaedics at Andrews Institute said, "Andrews Institute is committed to keeping student athletes across Northwest Florida as safe as possible. That's why a course like this is so important."
Community Commitment
Andrews Institute provides athletic trainers to all public high schools in Escambia, Santa Rosa, Okaloosa and Walton counties along with the University of West Florida, Pensacola Christian College, Pensacola Christian Academy and Aletheia Christian Academy. Services for student athletes include injury-prevention training/education, injury treatment, concussion baseline testing and pre-participation physicals. Coaches and leaders at Andrews Institute partner-schools also have access to receive AED/CPR training and education seminars covering different topics related to sports medicine.
For more information on the sports medicine outreach program at Andrews Institute for Orthopaedics & Sports Medicine, email SportsMedicineOutreach@TheAndrewsInstitute.com.
}