Andrews Institute to Provide Sports Medicine Coverage for Sun Belt Conference Basketball Championships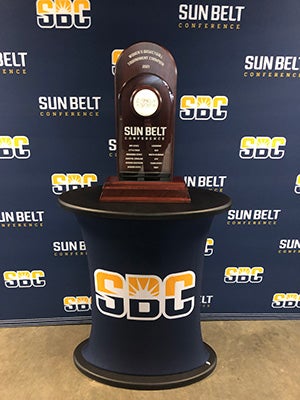 Andrews Institute for Orthopaedics & Sports Medicine will provide local sports medicine coverage for the Sun Belt Conference Men's and Women's Basketball Championships Tuesday, Feb. 28 through Monday, March 6 at the Pensacola Bay Center in Pensacola, Florida.
Physicians and athletic trainers from Andrews Institute will be on the sidelines ready to assist with evaluation and management of any injuries sustained by officials or players from the 14 Sun Belt Conference teams competing in the tournament.
This is the third year Andrews Institute has provided sports medicine coverage to the Sun Belt Conference during their conference basketball tournaments. "This is a tremendous opportunity for our physicians, athletic trainers and medical staff," said Chad McCammon, vice president of orthopaedics at Andrews Institute. "We provide this coverage to our student-athletes across Northwest Florida every day and are happy to work with the medical teams from the Sun Belt Conference this week."
The continuum of care at Andrews Institute for Orthopaedics & Sports Medicine utilizes the skills and training of surgeons, non-surgical sports medicine specialists and physical, occupational and speech therapists at locations across Northwest Florida. Andrews Institute also provides athletic trainers to the University of West Florida, Chipola College, Pensacola Christian College, Aletheia Christian Academy, East Hill Christian School and every public high school in Escambia, Santa Rosa, Okaloosa and Walton Counties. As team physicians for some of the most notable professional and collegiate teams in the country, Andrews Institute is the most trusted name in sports medicine.
To schedule an appointment or learn more, visit andrewsinstitute.com or call 850.916.8700.