Medication-Free Pain Treatment Now Offered at Andrews Institute for Orthopaedics & Sports Medicine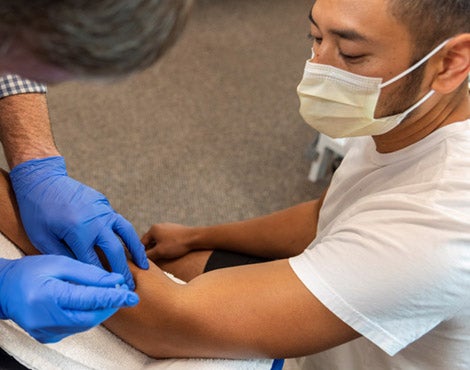 GULF BREEZE, Fla. (July 13, 2021) – Individuals suffering from muscle pain may benefit from an innovative medication-free procedure offered by the rehabilitation department at Andrews Institute for Orthopaedics & Sports Medicine. The new offering has shown to bring quick, lasting relief to patients struggling with painful musculoskeletal conditions.
The therapy is functional dry needling (FDN). The term "dry" is used to note that no medication is injected into the body. Instead thin, flexible needles are inserted into trigger points (painful knots in muscles) to stimulate a healing response. The therapy can be used to treat headaches, neck pain, shoulder impingement, tennis elbow, carpal tunnel syndrome, low back pain, knee pain, shin splints and plantar fasciitis, among other ailments.
At Andrews Institute, 18 physical therapists (PTs) have completed training and certification to provide this treatment. "We know what a difference FDN can make for our patients, often bringing faster relief than they might expect," said Christa Newgent, corporate director of rehabilitation at the Andrews Institute.
Patients may experience results within 24-48 hours of a treatment. FDN is not usually a stand-alone procedure but, as part of a broader therapy plan, serves as a stimulant that provides faster relief of pain due to an injury.
For more information on FDN or to schedule an appointment, call Andrews Institute rehabilitation at 850.908.1555 or visit AndrewsInstitute.com.
###
CONTACT BELOW IS FOR MEDIA USE ONLY
For more information about this press release or to schedule an interview, please contact Christian Garman at 850.291.9888 or Christian.Garman@TheAndrewsInstitute.com.
About the Andrews Institute for Orthopaedics & Sports Medicine
Located minutes from Pensacola, Florida, in Gulf Breeze, Andrews Institute for Orthopaedics & Sports Medicine provides world-class care and service for the athlete in everyone. The institute features more than 30 physicians and medical experts providing best-in-class service in specialties ranging from orthopedics and sports medicine to joint care and neurosurgery and is accessible to everyone. It is the world's only facility offering surgery, diagnostic imaging, rehabilitation and athletic performance training all on one campus. The one-of-a-kind center focuses on the prevention, treatment and rehabilitation of musculoskeletal injuries while using the expertise of nationally and internationally renowned orthopedic surgeon James Andrews, M.D. Dr. Andrews is best known as physician to some of sport's greatest professional athletes. For more information, visit www.AndrewsInstitute.com.
About Baptist Health Care
Baptist Health Care is a not-for-profit health care organization based in northwest Florida that is committed to helping people throughout life's journey. The organization is a proud member of the Mayo Clinic Care Network. A 2003 Malcolm Baldrige recipient, Baptist continuously strives to be a national leader in quality and service. Baptist Health Care includes three hospitals, four medical parks, Andrews Institute for Orthopaedic & Sports Medicine, Lakeview Center and a large network of primary care and specialty physicians. With more than 7,300 employees and employed physicians, Baptist Health Care is the second largest non-governmental employer in northwest Florida.
Baptist Health Care ● Baptist Hospital ● Gulf Breeze Hospital ● Jay Hospital ● Lakeview Center ● Baptist Medical Park – Nine Mile ● Baptist Medical Park – Navarre ● Baptist Medical Park – Pace ● Baptist Medical Park – Airport ● Andrews Institute ● Baptist Medical Group ● Baptist Heart & Vascular Institute ● Cardiology Consultants ● Baptist Health Care Foundation