Athletic Trainers at Andrews Institute for Orthopaedics & Sports Medicine Recognized During National Athletic Training Month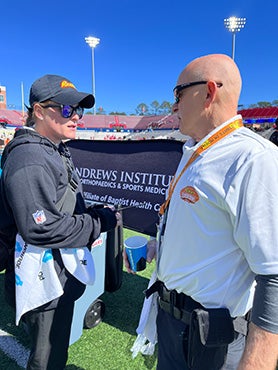 March is National Athletic Training Month, providing Andrews Institute for Orthopaedics & Sports Medicine the opportunity to recognize the outstanding care provided by its nearly 70 athletic trainers (ATs).
Andrews Institute ATs provide sports medicine coverage at area schools including the University of West Florida, Chipola College, Pensacola Christian College, Aletheia Christian Academy, East Hill Christian School and every public high school in Escambia, Santa Rosa, Okaloosa and Walton counties. They can also be found in physician practices, the physical therapy setting at Andrews Institute Rehabilitation and the United States Tennis Association (USTA) National Campus in Lake Nona, Florida.
"March is such a great opportunity to thank our ATs for the amazing work they do every day of the year," said Kim Telhiard, Andrews Institute executive director. "We're dedicated to providing world-class care in everything we do and the efforts of our athletic trainers reflect that."
Athletic trainers play a vital role in the prevention of injury and are often the first caregivers to tend to an injured athlete. Along with the work they do in physician clinics, the rehab setting and on sidelines across Northwest Florida, athletic trainers:
Facilitate the Management of Sideline Emergencies course for athletic trainers, sports medicine physicians and other athletic health care team members just before the season starts each summer.
Provide concussion baseline testing to student-athletes along the Gulf Coast.
Offer AED/CPR training to coaches and other school leaders at the beginning of each school year.
Coordinate pre-participation physicals, free of charge, to all student-athletes from their partner schools.
Athletic trainers in the physician practice setting provide enhanced education and resources to improve patient care. They help improve productivity, patient outcomes and influence satisfaction. They also significantly reduce re-injury rates through patient instruction and help reduce recovery time from non-surgical injuries.